Here are some places I have been featured and interviewed on the web.


     Feature in First Magazine, March 2009.


     Interview with author Tom Venuto, "The Body Fat Solution."



     World Physique Cover for April 2009. I was the Spokesmodel for 2009.


     Published in OAMG ad, 2010.


     Interview with Muscle-4-Life Nutrition.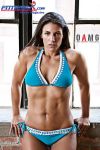 Feature and publication in FitnessX.com. May 2010.


     Television interview for WMBD/WYZZ-TV Washington, IL by Kurt Pegler. 



     My radio interview with Wess Murray of "Essentially Fit."  April 2011.


       Online feature for spry magazine, April 2011.


       My feature in activelife Guide, May 2011.